"South to the Sun"
That was the holiday slogan that I grew up with as a child in Britain. In the early days what it really meant for someone from London was the South-west of England; Devon, and if you wanted to be really adventurous, Cornwall, where there were big sandy beaches. And according to the holiday posters, the sun was always shining there too. The reality was quite different; the worst holiday was in a caravan when it rained for just about the whole two weeks, but there were plenty of other holidays where I remember we were inside most of the day, playing family games because it was raining.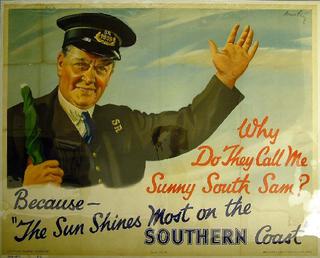 Gradually, British people were able to afford holidays in the real South; in Majorca, where the sun really did shine every day, and where there was more on the menu than fish and chips. When we finished secondary school and had a free summer before starting university, six of us headed off for the first time to the real South. Actually we chose an unusual destination; what is now Istria. It was called Yugoslavia then, and many people were nervous about going there, but I immediately fell in love with it; the sun, the light on the shimmering sea, the pine trees whose scent mixed with the sea air and the grilled food to create an unforgettable aromatic cocktail. I brought back a tourist poster of Rabac, signed by all the local friends we made, and gazed at it longingly every night during the long winter. From that point onwards, my summer holiday criteria were: warm sunshine, beach, and exotic things (including girls) that you did not find in Britain. I was not exactly unusual in this respect; I soon learned that Europeans from anywhere north of the Alps had the same idea about a good holiday, and the further north they came from, the more important it was to have such a holiday every year. As these Europeans became older, they started to make the dream more permanent, by buying up holiday homes in the south of Europe. I've had that dream too, but it has been diluted by Czech summers. They are much better than British ones, so a Prague summer really feels like summer, with the beautiful Petynka pool so close to me. Czechs themselves however seem to have adopted the South to the Sun maxim. I've learnt that this desire to head South – at least among the older generation – derives from something that we Brits did not have to deal with; that under the old regime, only the "approved" could go South on holiday. The mass exodus by car to Croatia reminds me of those childhood holidays when we all packed into tiny cars which wheezed slowly down to the South-west.
So you might think it a bit odd that now, when everyone else is heading South to the Sun on the D1 or the D3, we are heading north, on the D8. To a country very few people in Britain even realise has a "holiday coast"
Germany!
I thought a lot about how we slowly came to love the German coast as I used to love Istria, despite the many differences. I don't mean this in a very serious way, but it made me conscious of my identity as a Northern European, living in Central Europe. But mainly I just want to show you what we like about it and maybe it will encourage some of you to try it; just don't blame me if it rains the whole week.
The beaches.
Actually this all happened because of Arry. He was our first dog, a beautiful golden Labrador who considered all living creatures, except cats, as a potential friend. He developed some skin allergies and the vet said that some time by the sea could help. But he didn't get to see the best beaches because with him we went to Rügen and the following year to Travemünde. The best beaches lie either side of Rügen, big beaches of beautiful light sand, stretching as far as the eye can see, with generally shallow water, safe for kids and usually perfectly positioned for heart stopping sunsets. But before I get too carried away, let me just add something here: this is the Baltic Sea we are talking about. If the sea temperature is above 20° then you are lucky. I could scare a British reader and point out that Warnemünde is on the same latitude as Whitley Bay. But Whitley Bay doesn't have a beach to compare with Warnemünde, and Warnemünde beach is basically repeated for 130kms all the way to Lübeck.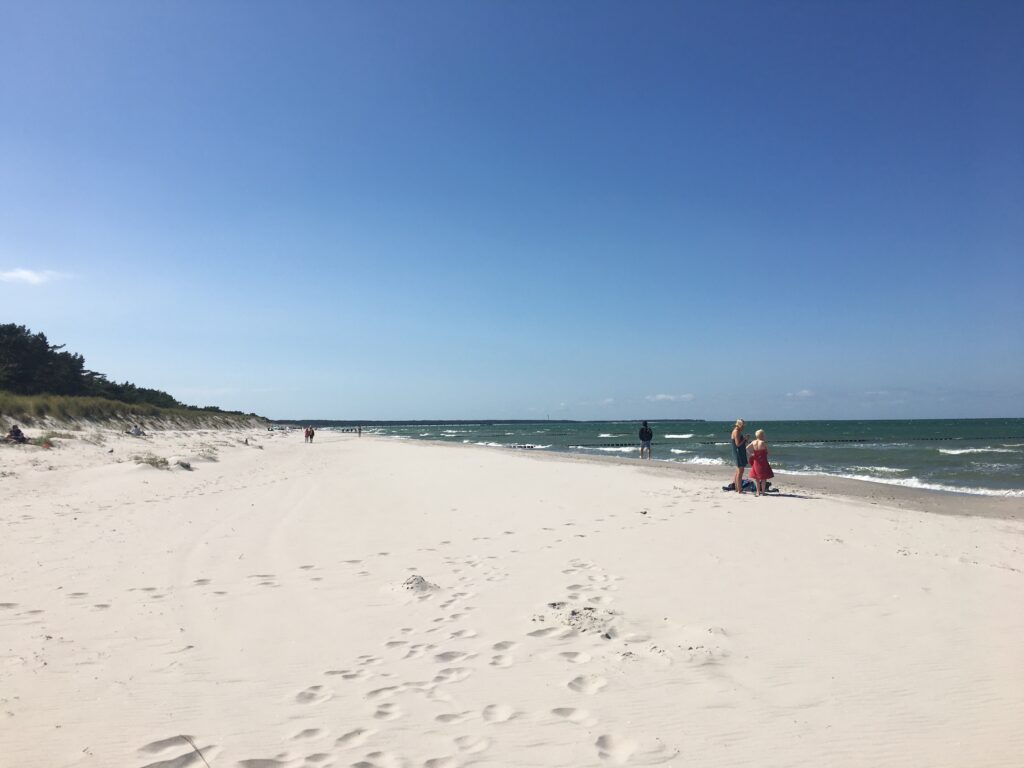 So you have this beautiful sandy beach; and it is cared for by Germans. This produces a number of different outcomes to a similar sandy beach in Britain. The foreign visitor has to accept that beaches, like everything else in Germany, must have "Ordnung". So every significant town will organise its beaches into numbered zones. These have a special significance if you want to go to the beach with your dog, or if you want to go to the beach and take off all your clothes. You will find that the dog beach (Hündestrand) is generally out on the edge of the resort; and right next to it will be the nudist (FKK) beach. This is Ordnung. Your dog isn't complaining, because a walk is never a bad thing.
No matter which section you eventually choose, you will never be far from a toilet, which will be clean and fully equipped. This too is Ordnung. Every night the beaches are scrupulously cleaned; and every day the visitors are expected to keep it that way. And because it appears that 98% of the visitors are German, that's exactly what they do. However you also have to pay for this via the Kürtax. This is less than €2 per day, but Germany, as you will find, is strangely backwards when it comes to digitisation, and these are paper vouchers, which you either get from your accommodation, or which you must buy if you are a visitor for the day. More than likely the Controller will come and check on you, too. It's rather like the Prague Metro on the beach…
The Strandkorb.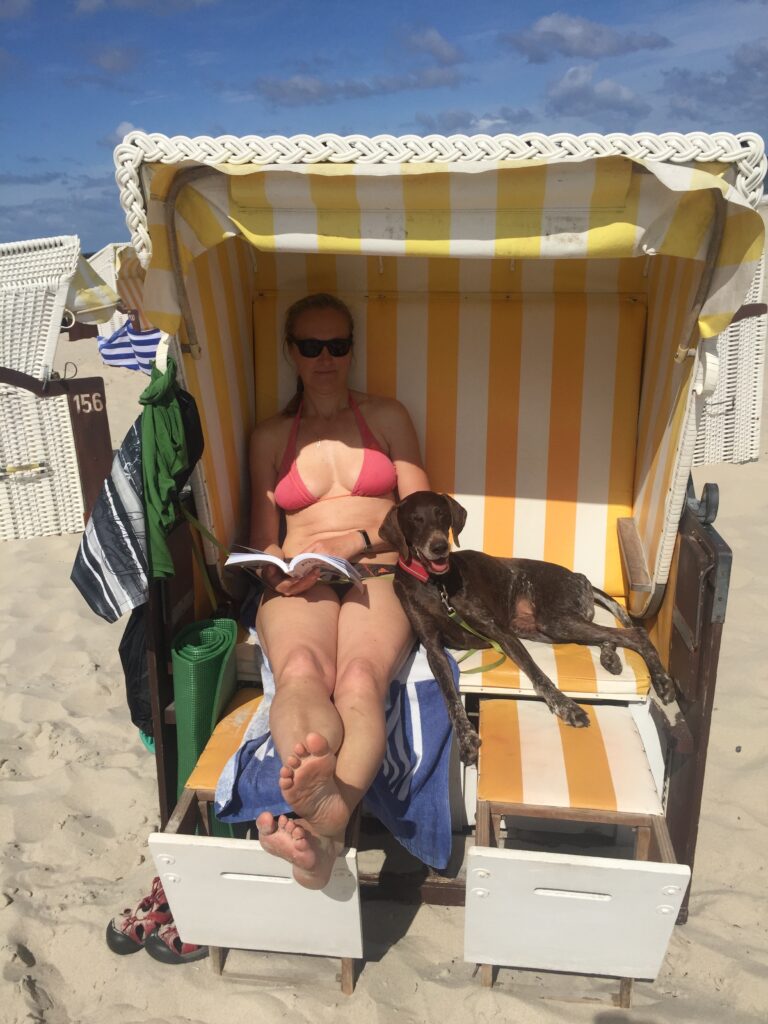 This is a Baltic icon, and I love it. You have to use it for a day, in order to fully appreciate the design genius (the design is basically unchanged for more than 100 years). It protects you from the wind; if there is sun; even if it is only 10C, you will find Germans in their Strandkorb, in reclining position, getting the sunrays on their faces. If a shower suddenly arrives – and it can arrive quite suddenly – you tilt your Strandkorb upright and it protects you against the rain. Most of them have compartments under the bench, where you can store your stuff. You turn them round during the day towards or away from the sun. Sometime in the early evening they all magically return to their pole position and stand like a small army admiring the sunset and waiting for their duties next morning.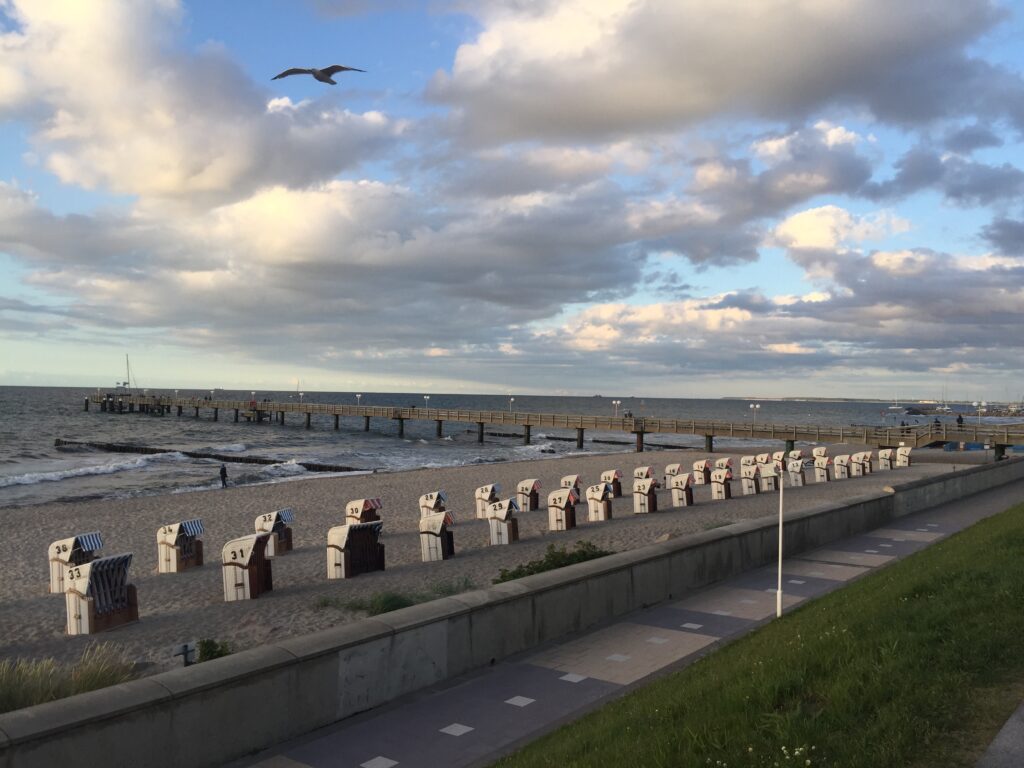 Accommodation.
It's either hotels or private accommodation. The hotels in the main resorts are usually big institutions, like a Marianské Lazne on the beach, and indeed in some of the resorts there is a long "Kür" tradition. But younger (or younger at heart) people would probably find the atmosphere a bit stuffy; in which case you need to rent an apartment, or small house if you are a larger family or group of friends. Booking this is a rather stressful exercise, but probably familiar to those who have done the typical Czech Croatian holiday. Agencies dominate, but they seem to dominate in only one resort each, so I recommend to just Google "Apartment "+ the town you are interested in, and see what comes up. Generally the German agencies are cheaper than booking.com and AirBnB, but unlike the latter they tend to demand quite large deposits on booking. The quality is pretty good, although the furniture in the cheaper properties can still remind you that you are in East Germany. It also seems to be an old convention that customers bring their own bed-linen, and if you cannot be bothered with this, you have to pay extra for a "Bett-pakett". It's changing, but slowly. This is quite a conservative tourist industry, reflecting the clientele, which I'll come to…Otherwise, you will in most cases find all you need if you plan to do some cooking – which we do.
There is of course the caravan or camping option. It's not our thing, but we have found ourselves inside various campsites from time to time, and they all seem to be of good quality.
But the most important advice is this; book early. I mean, ideally in January. The Germans are the dominant customer group, and they book early. Maybe we have found it especially tough because we always come with a dog, limiting us to perhaps 30% of the available accommodation; but you know the English holiday legend about "being on the beach before the Germans"…
Food
Fish, obviously, is a big attraction. Although if I am honest, it's not as exciting as on the Med. The local fish are generally white, and the restaurants generally conservative, with very similar recipes. However, if you like smoked fish, you will find lot of places smoking their own, either to eat immediately or to take back to your place. Inevitably too, truly local fishing has almost disappeared, and a lot of the fish on sale in the fish shops came via Hamburg from quite a long way away. Kühlungsborn and Zingst are two exceptions which have a local fishing boat landing fresh fish daily. If you ask around, you will find out quickly enough where the best fish is where you are staying.
The conservative clientele has not encouraged innovation in restaurants, but we see signs of change. Probably the most creative fish restaurant we have tried is Seeteufel in Kühlungsborn, but it can be booked up one week in advance as the main room is very small – they need good weather to be able to double their capacity on the open terrace. Last year in Zingst we were very pleased to discover Kochwerk, which is not just a fish restaurant and is really working hard to offer something more creative.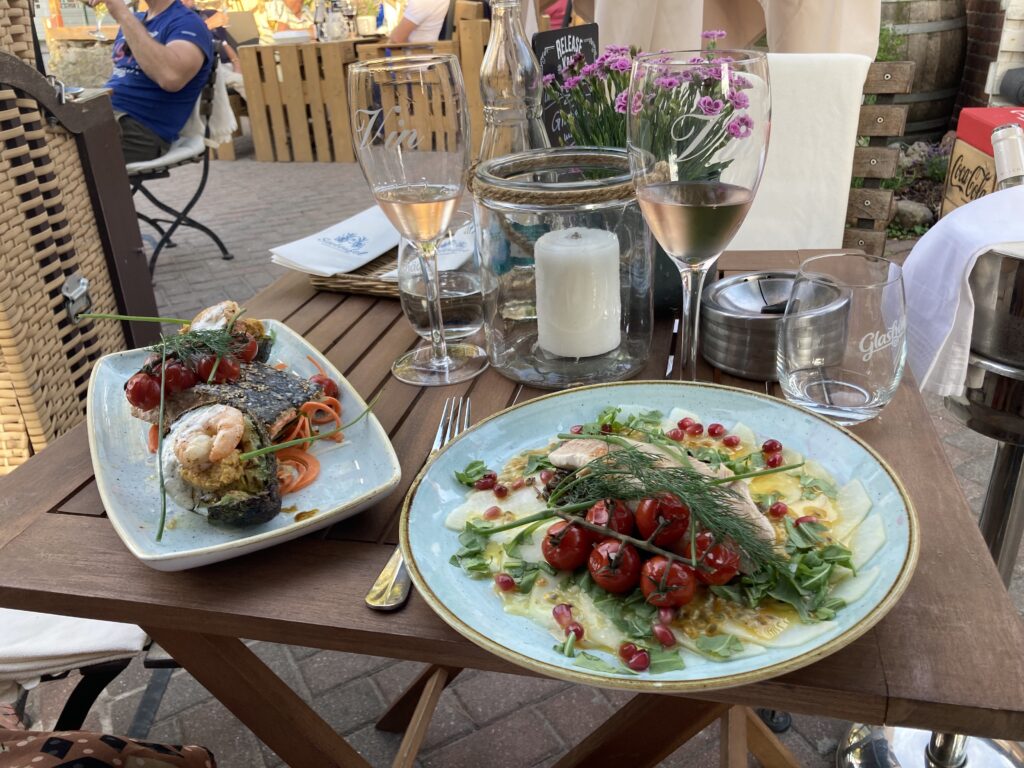 The bakeries are a strong point. Delicious fresh bread in various styles; and cake. Colourful, exotic cake, tempting you in to enjoy with a milky coffee, guaranteed to cheer you up if it's raining.
And then there are two more Baltic, or rather Ostsee, icons to mention
Fischbrötchen. They are small crusty baguettes filled with cold fish, often herring. Some onion and lettuce will be added. They are insanely delicious and on sale everywhere. It's surely one of the healthiest fast-food offers in Europe. And of course it seems so simple and you can buy all the ingredients from the farmer's markets in Prague, but somehow it just never tastes as good.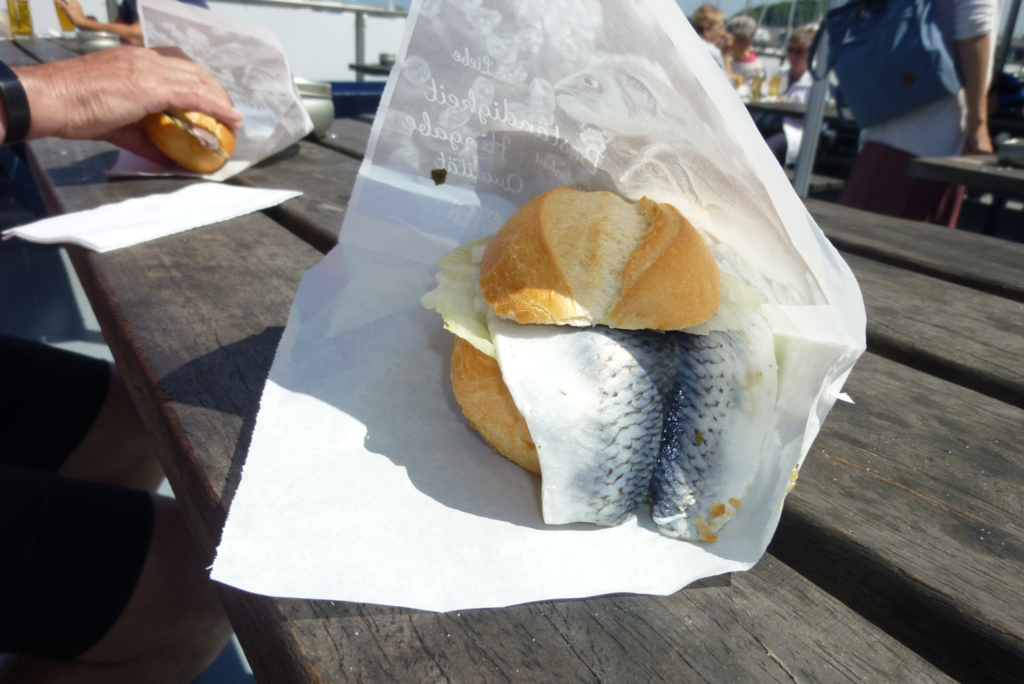 Strawberries. This one may surprise you. At every town along the coast you will find the bright red mobile stand selling strawberries and jams. They will be the best strawberries you have tasted for quite some time, better than what we grow here in the garden; we always bring a box back with us, and they are still fresh and firm a week later. I tried to find out why they are so good up there. My Swedish friend who comes from just across the Baltic Sea from there believes that it's because in the relatively cool climate they grow more slowly, but they also get as much if not more sun then here, because the summer days are very long. Whatever the reason, enjoy. A couple of big local companies dominate the supply via these stands, and one of them has a huge IKEA size place devoted to strawberries and all you can do with them, including the jam being made in big vats in front of your eyes.
Drink.
It's all about beer and rather dangerous hard spirits. My favourite brewery from the region is Störtebeker, based in Rügen. They are quite innovative, so you will find plenty of variety in their range. They are proud of their Freibier, one of the most drinkable 0% beers I've tried; and last year they had both 0.5% and 2% flavoured Radler, which drinks really well on the beach or your terrace. The other one I like is Jever, with its distinctive herby flavour, but it doesn't really count as local.
The hard spirits are generally cousins of vodka, and all are expert in giving you a hangover. I think they are mainly to be drunk through the long winter nights. Never mind. Aperol spritz and similar are what people drink as they gather to enjoy the sunset.
Your fellow holidaymakers…
Okay let's deal with this, because they are key to the atmosphere you'll experience. I would say they are 98% German. I conclude this from studying car registration plates. Hardly any are non-German. Furthermore they are unfamiliar if you are the type who enjoys knowing which plate designates which German town. That's because they are overwhelmingly from eastern Germany. The age demographic is heavily weighted to the over 50s. We have noticed both these factors weakening a little since 2020; some younger people have started to appear, as well as car plates from Hamburg or Köln. But most are clearly Ossies and they have in many cases been coming here for years. Same apartment, same week.That's why I describe it as a conservative clientele, and, I suppose, why things are slow to change. These resorts seem to be in good economic health, though; they are pretty full in July and August, and the pandemic provided a further boost; it was probably this which encouraged some younger Westies to come and see what the previously unfashionable Ostsee coast could offer. We often go the whole holiday without seeing a Czech car plate or even hearing Czech voices, although some young Czechs are up there working. Brits are even more scarce; getting there is far from convenient, and as a beach holiday destination, it is quite a hard sell.
So if you are half my age, and looking for a vibrant nightlife, then frankly you will be disappointed. Even when there is live music, it's likely to be a bit cheesy, and not particularly demanding; on the other hand everybody else loves it, and if it's a nice evening you might just go with the flow. Actually one of our favourite evenings was in Rerik where a local and clearly much loved male voice choir delivered their repertoire of sea shanties by the harbour.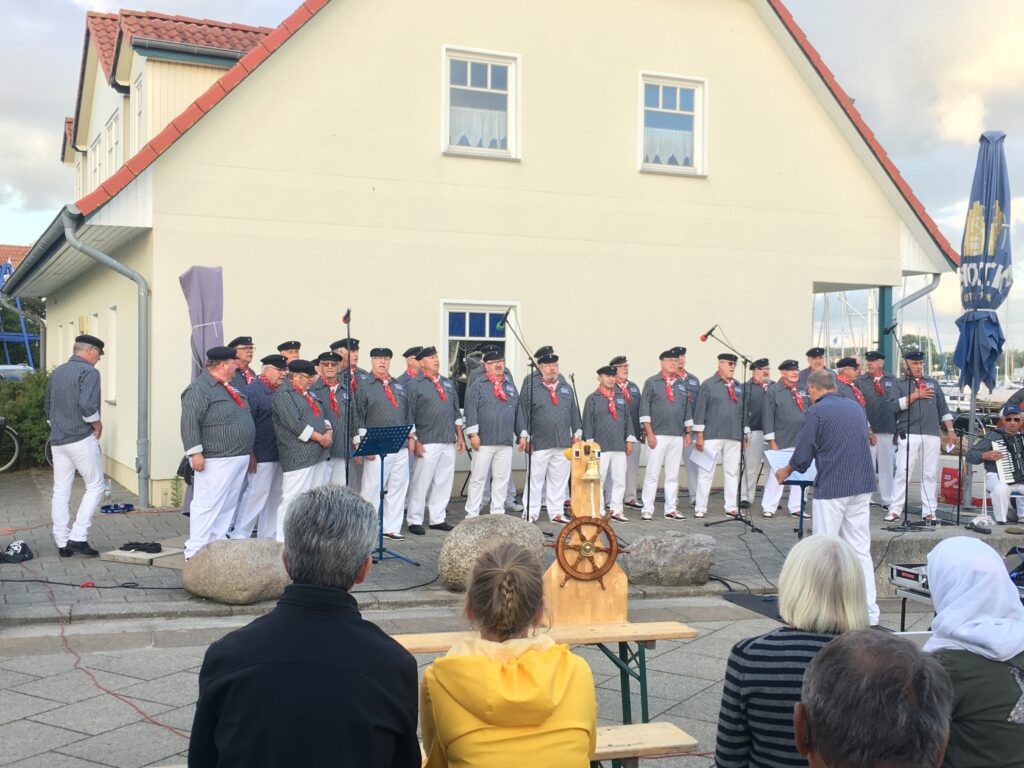 Nor are the resorts, or their clientele, particularly inclined towards "look at me" behaviour. I suppose the East German heritage is one reason for this, and there are not so many places where you can or need to "splash the cash". We quite like that egalitarian atmosphere.
Occasionally you may feel that the obsession with rules is a bit overbearing; but it is usually pretty clear why the rules exist, the problem is only that some people (including fellow holiday-makers) don't hesitate to inform you when you've broken them. Just let it ride; it's not personal, and you might start to notice how nice it is when everyone shows mutual respect for their neighbours. Oh, and by the way, in case you wondered, there are no Russians.
You cannot count on people speaking much English, certainly not amongst your fellow tourists, or even in a lot of the shops and restaurants. On the other hand, people will be delighted if you try to speak some German with them.
Four-legged holidaymakers
The ability to take your dog with you was what took us there in the first place. Basically, dogs are welcome, provided, as usual in Germany, that they (or rather their owners) respect the Ordnung. During the day, in the resort, you are restricted to clearly marked zones of the beach. The upside for your dog is that there are many possibilities to make friends. Our ever-friendly Labrador spent three hours interacting on a cramped dog beach north of Travemünde, and was completely exhausted by the evening. But where the marked zone ends, the wild beach commences, and you can enjoy those long solitary walks with your dog by the sea that you always dreamed of. We did take our Lab to Croatia, but the Ostsee is far better; we didn't feels dogs were particularly welcome in Croatia, and it was often not clear if they were allowed on the beach at all. Then there is the weather. Most dogs will prefer the temperate climate of the Baltic. The problem is that (as elsewhere) a minority of accommodation will allow dogs, so you have to book even earlier than most. But cafes and restaurants (especially those with outside seating) will usually welcome your dog, though it is wise to enquire first.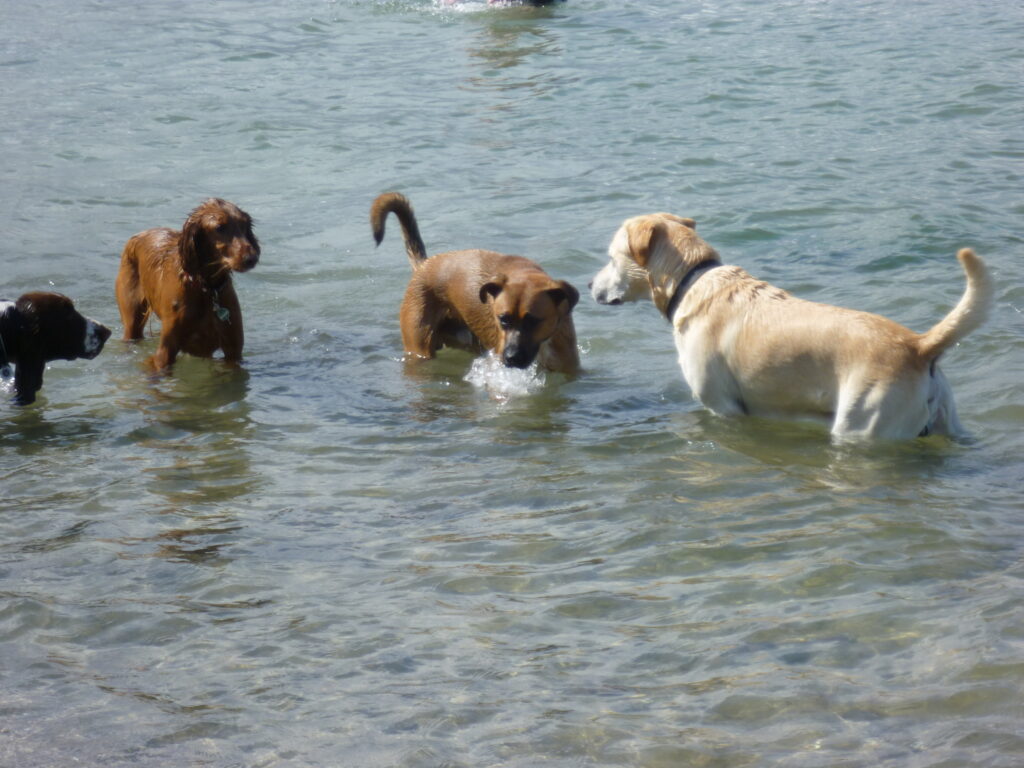 And the weather?
Well that's the question. You have to go with a different expectation to that which you've developed from years of holidays on the Med. July and August is basically the season. But at any time you can expect some rain, perhaps quite a lot of rain. Statistically, August sees more rain than June or July, even though it's the most popular month, due partly to school holiday schedules. You can expect wind, too. That's why there are Strandkorben. Overall, temperatures are modest; 25 is a heatwave. Yet if it is sunny and the wind is light, 20 will feel like a perfect beach day, and you will need your sunscreen; and the beaches are glorious on such a day. Sea swimming? Well, in mid June, it would be too cold for me – 16 or 17C – but my wife (and of course the dog) are OK with it. If the weather is decent then it gets up to 19-20 and that's OK even for a wimp like me. There are usually waves, and sometimes some jelly fish but generally the towns look after their beaches and keep them clean.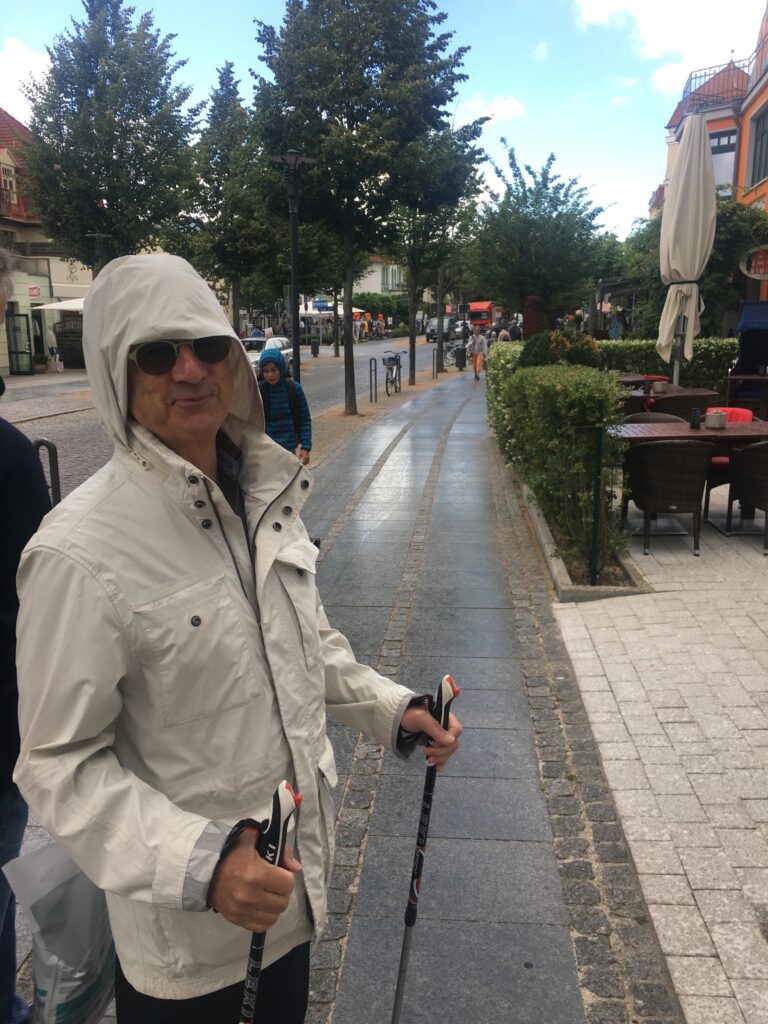 So what's the essence of this place?
It is in the beaches. Big white sandy beaches stretching all along the coast, and with more than enough room for everybody even in the centre of the resorts. It is in the heart stopping sunsets – most of the beaches offer an uninterrupted view westwards. It's in the restraint on over-commercialisation, and the scrupulously clean and tidy environment. It's in the Hanseatic architecture, including the piers. Every small resort has a wooden pier, and they and the timber wave-breakers remind me wistfully of the English coast – until I remember that in England many of the piers have been left to rot. Here they are in perfect working order. Of course they are. It's in the view of the ships of various sizes and purpose plying the seaways, bound for Rostock, or perhaps on to Poland or further east, or north to Sweden; and the constant cries of the highly assertive seagulls (hot tip, never leave your food unattended on your balcony!) It's in the capricious weather, that might offer you a promising deep blue sky at 10,00, only for some distant clouds to gather in the west, and force you to change your plans for the afternoon – and then disappear again to give you that golden sunset. It's in the proper, serious sea which can get quite angry but does not create dangerous currents around any of the resorts that we know of. It's a coast where I hear and feel haunting echoes of the England of my childhood; it's the place that made me realise that I am, for better or worse, a "Northern European" – welcome to the North!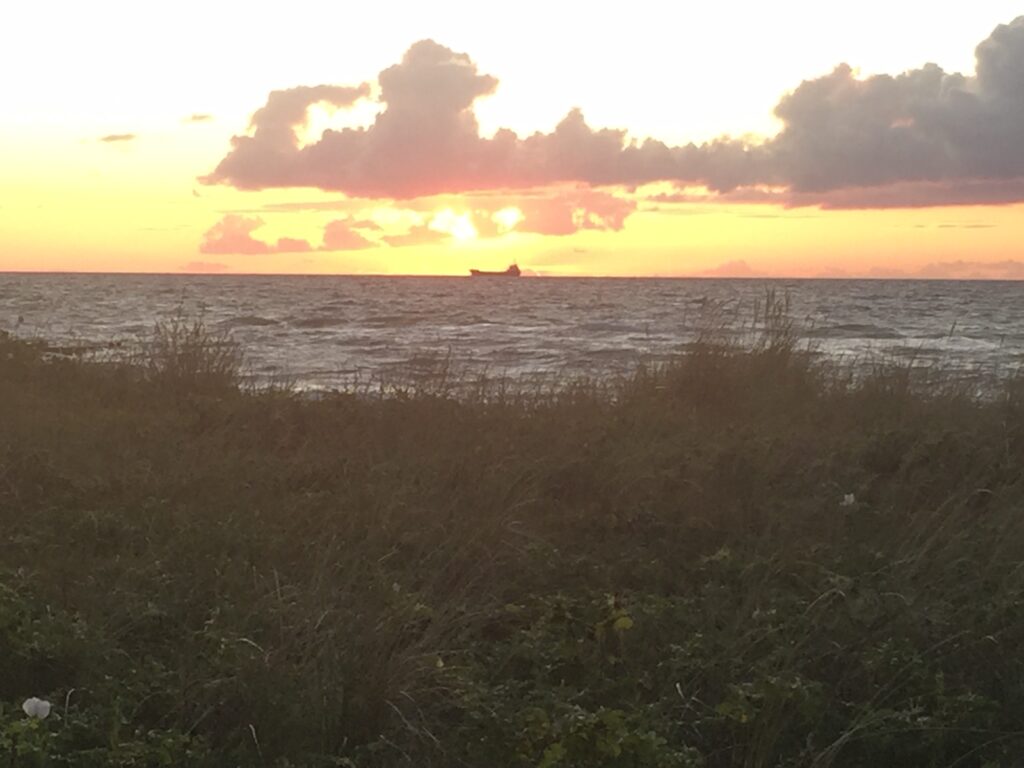 Part 2 – tips for the resorts and other holiday matters.
As promised…here are a few things you might find helpful about the individual resorts and areas we've visited on the German Baltic coast. I deal with them in the order of first time visited.
Rügen.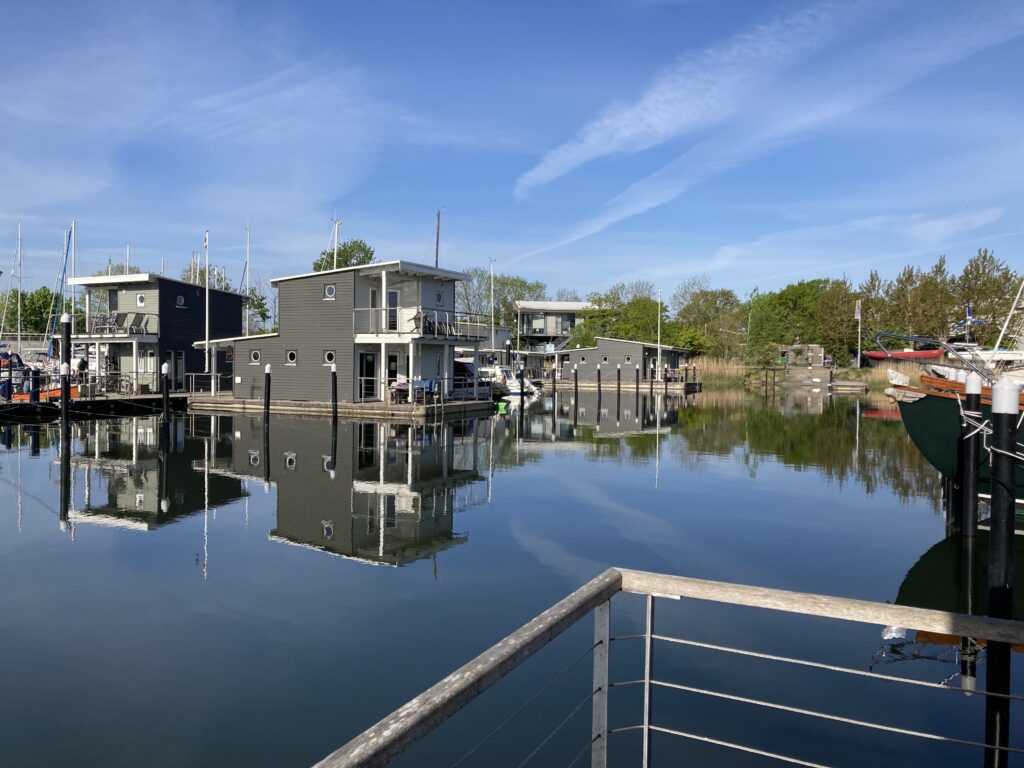 Well, Rügen is a big island and we have not seen anything of the wild north-west coast which includes Hiddensee island, where no vehicles are allowed, We stayed in Göhren in the south-east. I returned there last year during a quick rail trip. It is on a hilly peninsula, so it has two beaches but the town itself cannot help feeling cluttered. It's a good base, though. It's the main terminus for the RHBB steam railway, which takes you up to Binz, the biggest resort town. Binz definitely feels traditional/conservative. Further north there is Sassnitz and the famous cliffs. On the train trip last year I was determined to stay in one particular place in Lauterbach Mole, the southern terminus of the RHBB, one of the floating cabins on the harbour (foto above). They are not cheap, and in high demand, and surprisingly lacking in shelving and storage space, possibly because it's assumed that most customers arrive in their boats and keep a lot of stuff on the boat. Nevertheless it is simply magical. Bergen, the administrative capital, need not detain you, although if you arrive by rail (perhaps on an ICE from Berlin) you will change here for the RHBB. Don't forget that Göhren, Binz and Sassnitiz are on the east coast, so there are no epic sunsets on the beach to enjoy. We have not yet visited Stralsund, the apparently handsome town that is the gateway to Rügen, but we are going to correct that omission this summer.
Lübeck and Travemünde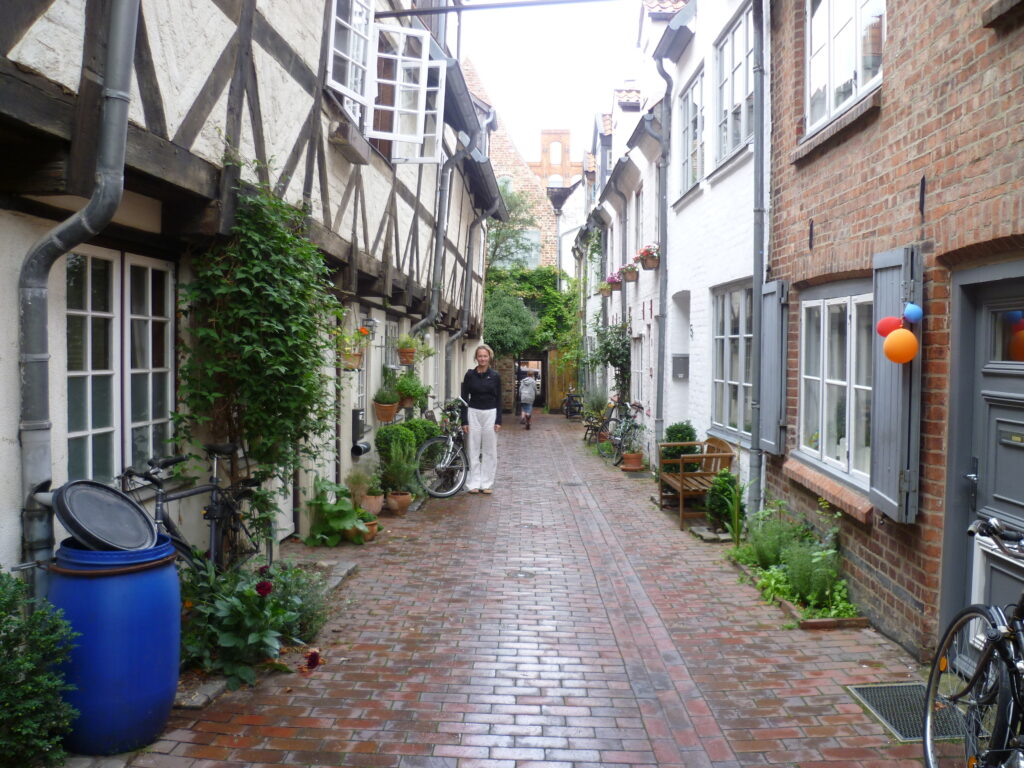 At the other end of the coast from Rügen, and just across from where the Iron Curtain fell, this was where we ventured next. It was again late in August and the weather was frankly dire, but we really did not "get" Travemünde. The beach is at the mouth of the river, so big ships pass you close up as you consider the water for swimming. I like ships, but not swimming close to them! Lübeck on the other hand is a fine city with much to explore. Our hot tip is that it's also a great place to buy and take home wine; Bordeaux red wine, known as Lübecker Rotspon. This article will explain all.
Usedom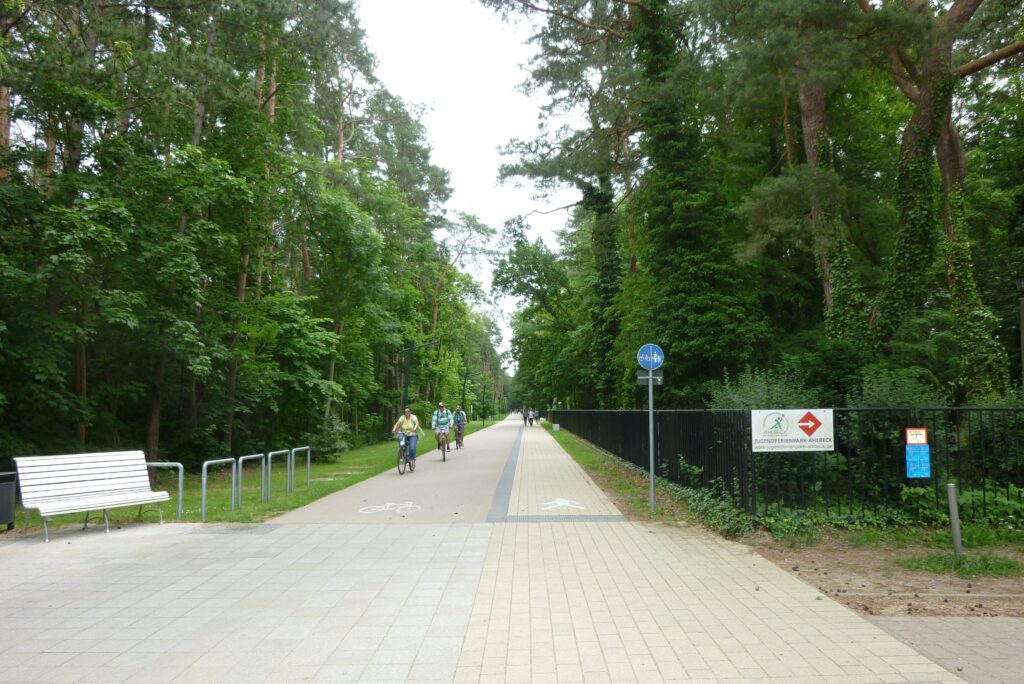 Back at the other end of the coast from Lübeck, Usedom is another island, although you hardly notice that fact as a tourist. It sits on another border, this time a live one, with Poland. The main resort area consists of three beachside towns which merge into each other: Bansin, Heringsdorf, and Ahlbeck. From Ahlbeck it is an easy stroll along a beach path across the border into Poland and specifically the port town of Swinoujscie. You will soon be struck by the contrast! In a pub in Usedom we got chatting to a young couple from Warsaw who told us that they booked accommodation in Swinoujscie, but spent most of the time across the border as they rated all the services better. The beaches are big and wide in the three towns, and there are some spa facilities. Once again, the beach are East-facing, so sunsets are no big deal, and do also treat class by the tourist board that Usedom is sun-drenched, with considerable scepticism. There are lies, damn lies and statistics, andI reckon the figures look good simply because the sun rises early and sets late. But we enjoyed that holiday. It was also the first holiday where we discovered the strawberries, and eventually the mild insanity of what we dubbed the IKEA of Strawberries.
Kühlungsborn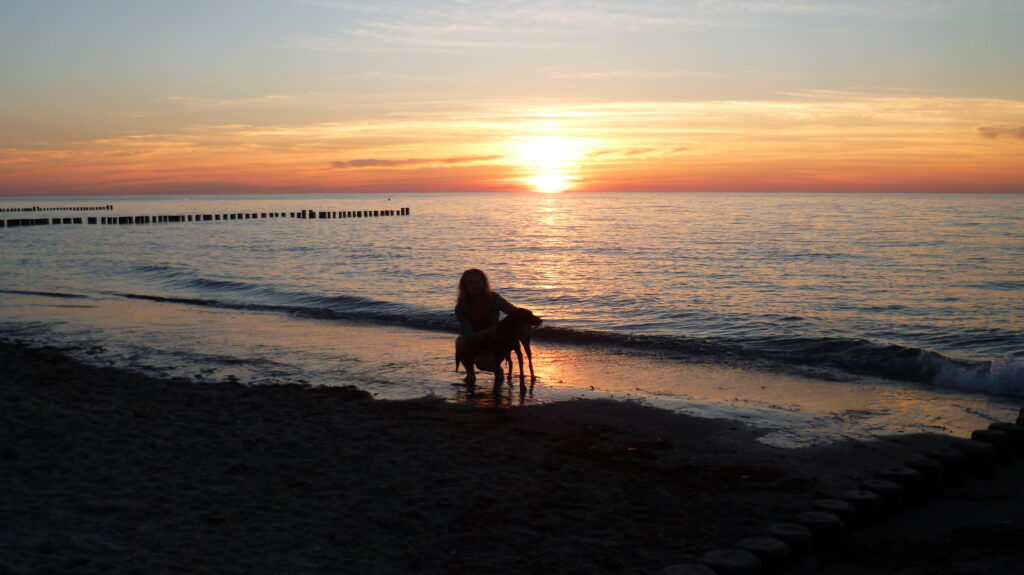 We rate Ku-born as the king of the resorts on the coast. It is one of the biggest, but by no means gross; none of the German resorts are, but in Ku-born you won't find any of the big fast-food names and the associated litter, because the Mayor apparently has refused to ever let them in. So you are left with three kilometres of supervised beaches, with rows of trees separating them from the mainly handsome villas and "kur-ort" style hotels as well as plenty of parkland bordering them. There's a harbour at one end and a campsite at the other, and it is all very nicely laid out. It also has Molli; another narrow gauge railway which connects Ku-born to Heiligendamm and Bad Doberan and is entirely run by steam locos hauling immaculate red and cream coaches. In Bad Doberan it ends up running through the town's main street, and woe betide any car that gets in the way! When we first came, we felt like the youngest tourists in the place, but especially during the pandemic we finally started to see some younger people, and cars from Western Germany – but it's still not a place where young singles will come for the nightlife. It has one standout restaurant –Seeteufel, book several days in advance as it is small – and Mantra, a very decent Indian restaurant in the station building of Ku-born Mitte station on the Molli.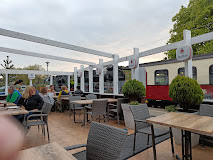 Rerik and Poel
About 15 kms west of Kühlungsborn, Rerik is smaller but with a few good places to eat, and a nice harbour on a lagoon. And watch out for the choir, mentioned above! Another 15 kms further west you come to the island of Poel. It barely looks like an island on the map, separated from the mainland by a very small channel. But an island it is, a very quiet and tranquil place generally, although there are water-sports at Timmendorfer beach. There are a lot of small houses with thatched rooves which add to the tranquil air. Four days there was enough for us, but considering that this was the first few months of the pandemic, we felt lucky just to have made it there.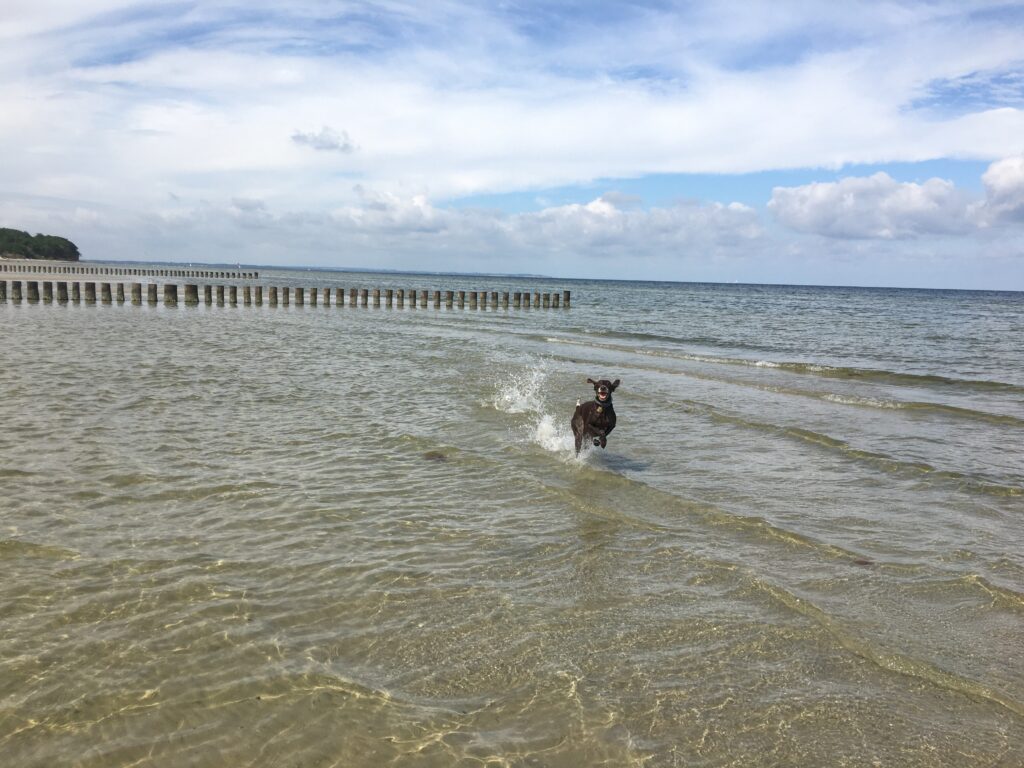 The Fischland-Darß-Zingst peninsula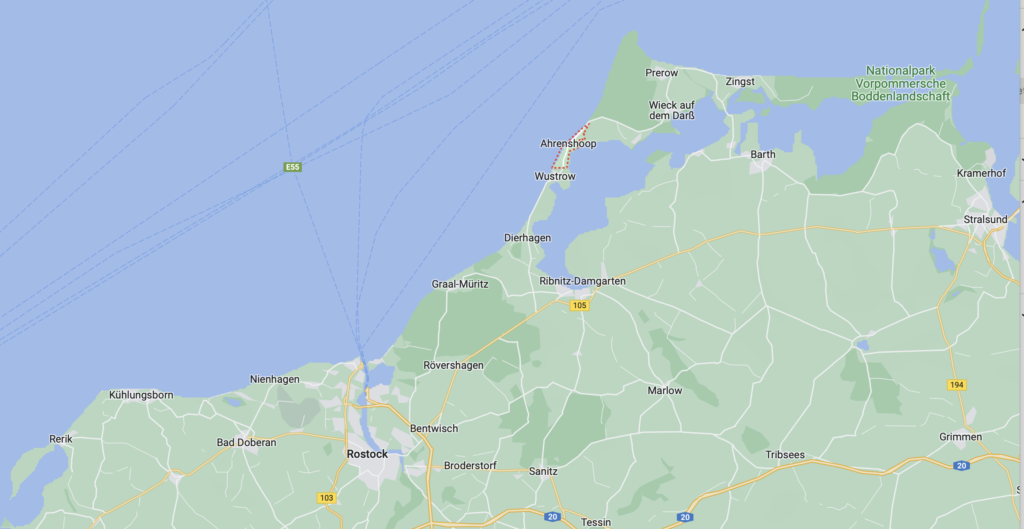 OK, so finally we need a map! There it is, top right. We first stayed there in 2019, in Wustrow (not recommended) and we didn't really get to to explore Ahrenshoop next door, supposedly a chic artistic enclave. The problem there is that the sliver of land is inevitably dominated by the busy road. But last year we tried Zingst, and we loved it (and will be back this year). The traffic on the peninsula tends to end up in Prerow, which apparently was a destination in DDR days, so Zingst is quieter, with only the nature reserve beyond it, and it has the second access route from Barth. Zingst is nicely laid out, managing to embrace both an orthodox beach-front and a harbour facing a large lagoon. From here, a ferry takes you through parts of the nature reserve and across to Barth. On a sunny day that's a nice trip and in Barth harbour you can enjoy top quality fischbrötchen on the boat that is moored there.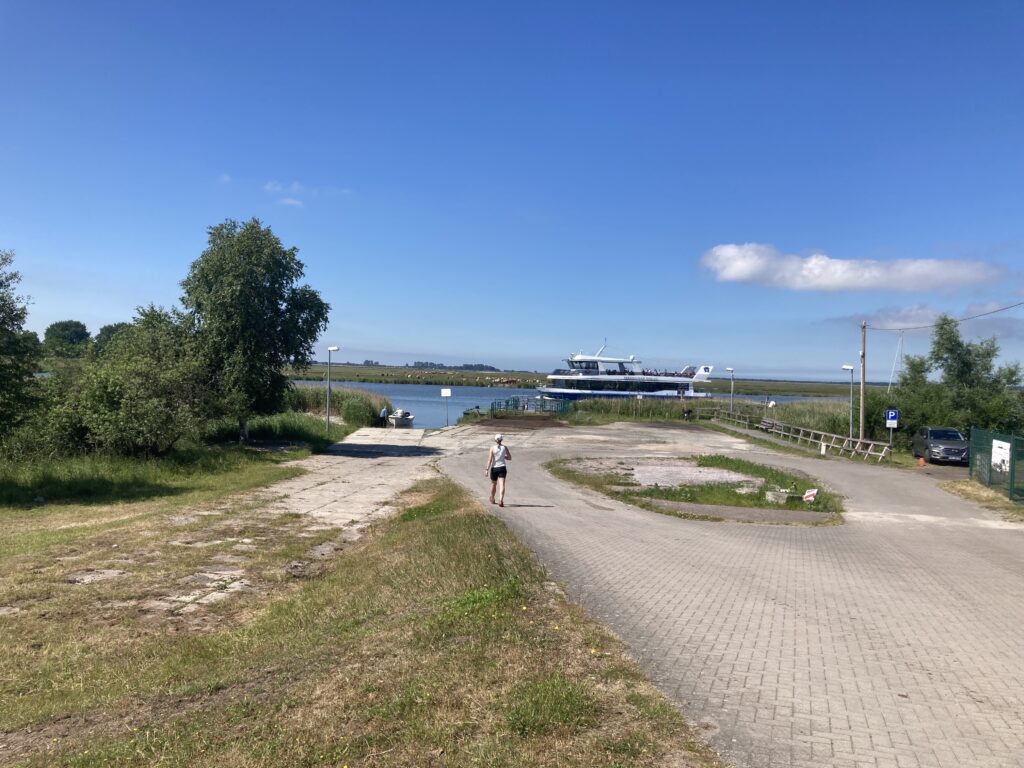 Zingst is also host to another rare restaurant that dares to break the stranglehold of the Ostsee restaurant menu, it's called Kochwerk and you find it a little way off the main restaurant streets. We appreciated both the food and the evident enthusiasm of the staff for their offer.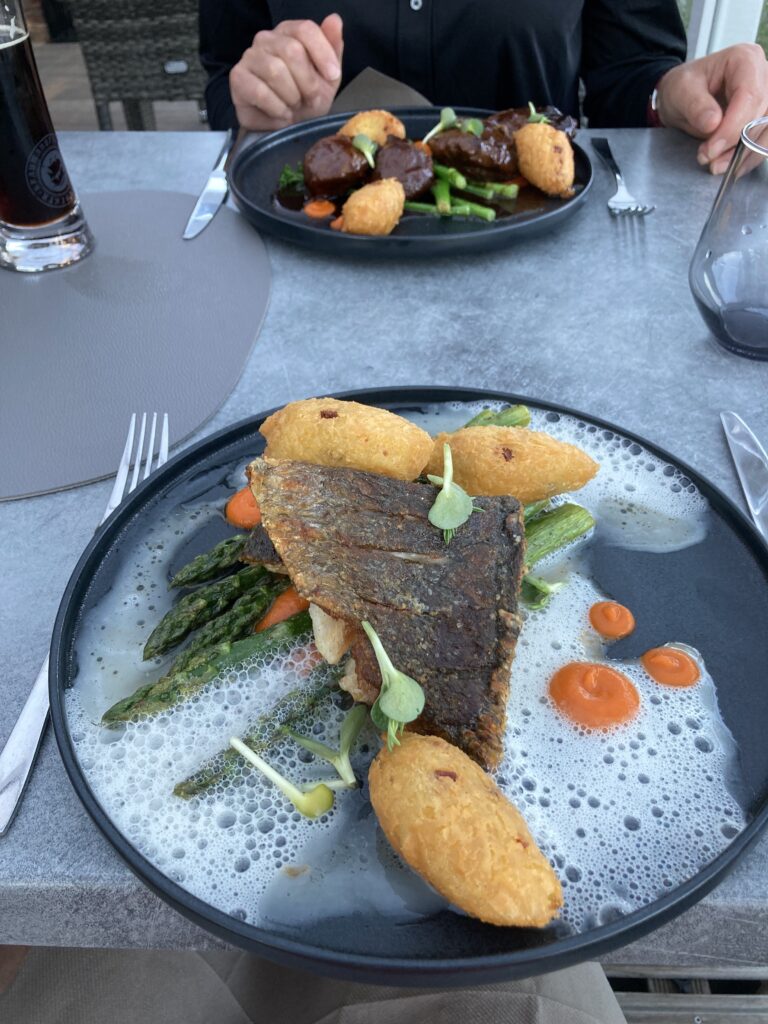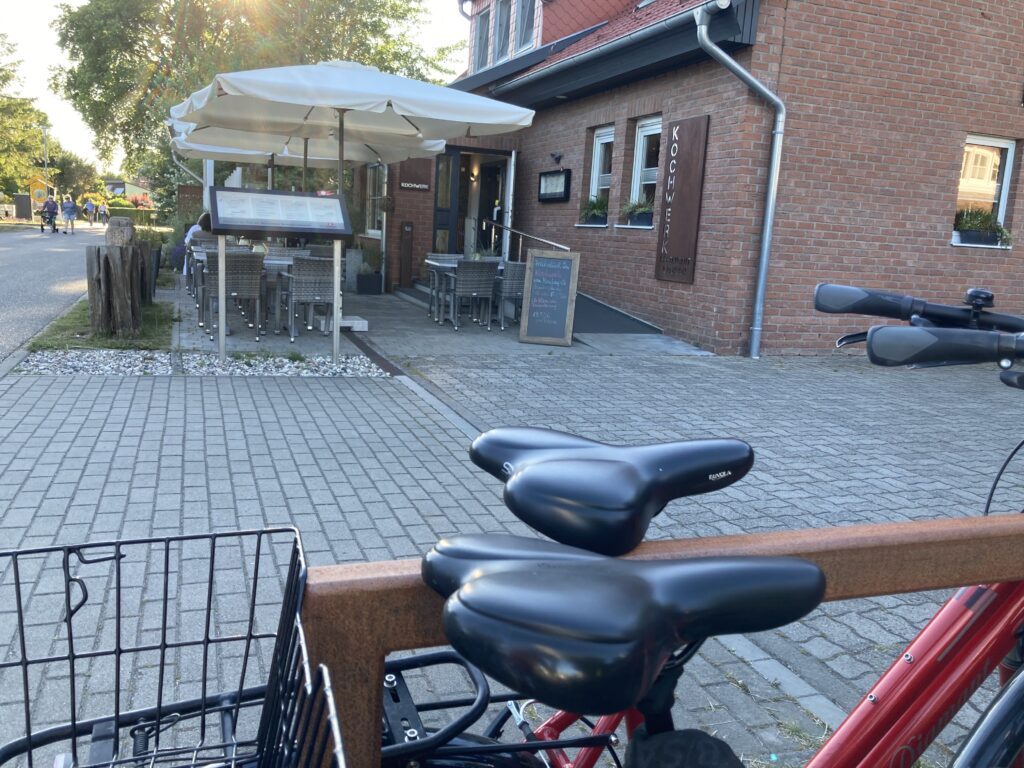 Finally we must mention the local "fish merchant" Most of the resorts have a shop where you can buy fresh and smoked fish to enjoy in your apartment. But you will soon get the message that most of this fish is sadly no longer locally caught. Mr Tornow in Zingst is one of the last local fishermen. His place is very much a fisherman's hut, and he can seem a bit intimidating but his fresh fish is really that. the only downside is that it is literally what he caught that morning, and if that is not the fish you wanted, well that's just too bad. This summer I'm aiming to be there on the morning when he finally brings home some turbot!
And lets's not ignore Rostock.
Rostock has a bit of an image problem, a big port city that is still nowhere near as big as Hamburg, and so has rather lost out in re-unified Germany. But it has a spirit and is definitely on the way back up. The centre is pleasant, and the walk to the railway station takes you past big handsome villas that survived the WW2 onslaught. Zur Kogge is a hugely atmospheric harbour pub that sticks to tradition on the menu but delivers it really well.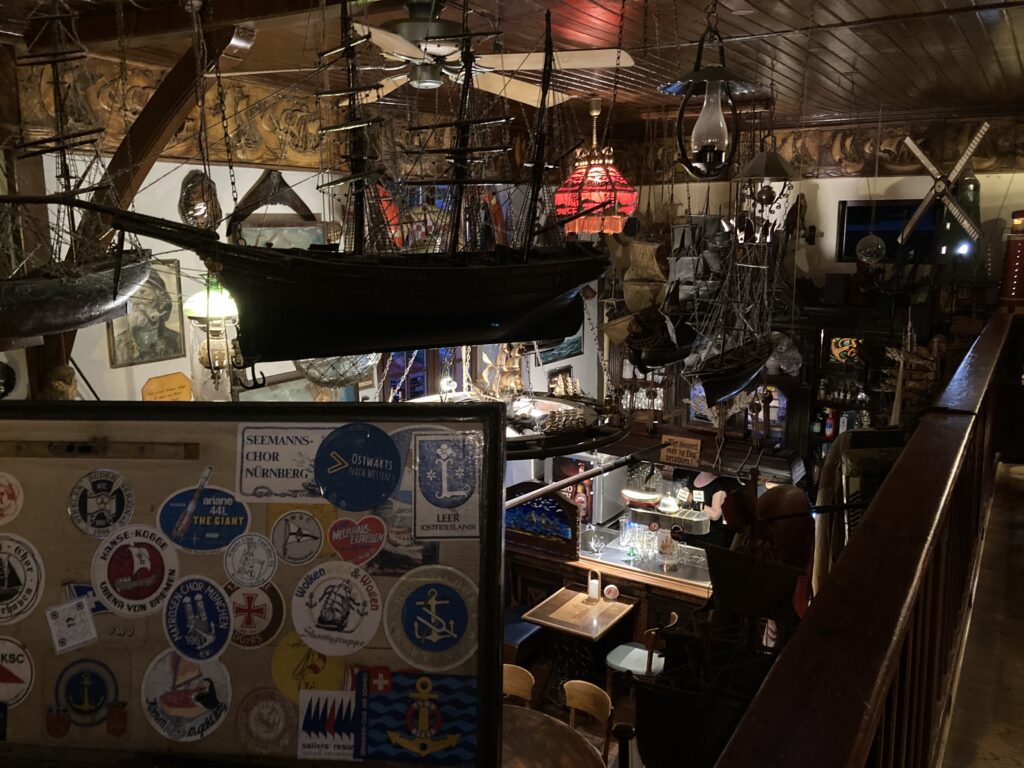 Getting there.
If you are coming from Prague, driving is the obvious solution, and it is generally a bit shorter and easier than the classic Czech summer drive to the Croatian coast. It is motorway all the way, although if your destination is Rostock or west of it you will be directed through Berlin's central urban expressway.
But what about the train? Well, as a keen advocate of such matters I would suggest that it's not out of the question, and actually getting better. Deutsche Bahn has recently increased its express services from Rostock to Berlin and Dresden, so you can get from Prague to Rostock with one easy change in Berlin, in just over 7 hours. But make sure to reserve your seat, especially on the Prague-Berlin leg. This summer for the first time Ceske drahy offers one train per day running direct from Prague to Rostock and back, although the northbound train leaves at some silly early time. There are also express trains from Berlin to Binz on Rügen via Stralsund.
From the UK? Frankly, it's difficult. Rostock has an airport but not even Ryanair are flying there at present. So it's going to be a car on a ferry, or a long rail trip, in both cases you'll need to consider the journey as part of the holiday. One new tip though; there is now a fast jet car ferry running from Trelleborg in Sweden to Sassnitz on Rügen. It's run by FRS Baltic and makes the crossing in 2.5 hours, compared to 6.5 hours on the regular ferries run by Stena and TT line (to Rostock, though). I tried it in May this year, and I was very happy with it – until we got to Sassnitz. The so-called bus connection to Sassnitz station is not co-ordinated with the ferry arrival at all. No wonder I was the only passenger on the whole ferry who was relying on it. Taxi? They exist in principal, but only if you booked in advance. But the service only started in April, so I am sure that FRS Baltic and the Rugen bus people will sort it out. This is Germany after all, come on guys!