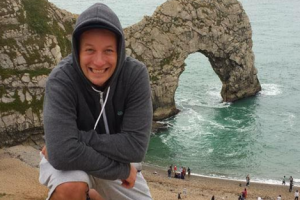 Part 1
There are many things wrong with British society, and I have never been afraid to speak of them to Czechs; I hope that then, if I claim something about Britain is really good, they will believe me rather than just suppose I am being "patriotic".
One of those good things, I always argue, is the British justice system. When I first heard the dreadful news of the murder of Czech citizen, Zdeněk Makar, in London last autumn, I tried to reassure my Czech friends that our police will get the killer, and he will face justice.
The police did their job. Raymond Sculley was very quickly arrested and charged with murder. It's usually a good sign, when an arrest and charges follow quickly. It suggests the police have received clear and damning evidence. In the meantime details had emerged of "Zed" in the press and social media. I quickly gained the impression of a hard-working and able young man who had gone to Britain to build a career and enrich his life experience, and was clearly succeeding. He had a group of friends there from the Central European countries, equally decent, and now horribly bereft. They organised a fund to ensure he could be returned home to lay to rest.
Having read about him, and the press reports of what had happened I was very confident that he would not have provoked such an assault, and it's worth explaining why I was so confident.
I'm a born and bred Londoner, and lived there all my working life until I came to Prague in 1993, and return regularly. I have always enjoyed socialising with friends in pubs and clubs. And football, where tribal passions still run deep, is in my blood. I think that I understand "the streets", and can quickly spot trouble.
And in the UK, trouble comes quickly, often at random. There is an aggressive element in the British DNA, and it flares up under the influence of alcohol and drugs, and in otherwise peaceful and respectable people. When out in the evenings in the big cities, you know how to behave; Don't engage with people unless you have a good feeling about them, don't make eye contact with strangers in the streets. Definitely don't initiate banter with a random group of young guys, no matter how good-humoured you think you are.
Poor Zed didn't follow those rules on that terrible night last autumn. And I think I know why. After a few years in Prague I started to appreciate that the aggressive undercurrent of the London evening streets didn't exist here. Czech guys went to pubs where everyone sat down, to enjoy the serious business of consuming fine Czech beer. In London, when you finish your beer you have to go to the bar and spend minutes attracting the barman's attention. That alone can wind you up. There's a post-punk song about it. Czech guys are provided a fresh beer by a smiling waitress even before they finish the previous beer. Then they wind their way slowly home, minding their own business. It is one of the many things I appreciate about life here.
Zed wasn't from Prague but from a smaller town in Moravia, where everyone knows everyone else. And, like most from the new EU countries, he had to make his home in an area of London where he could afford the rent; an area which used to be solidly working class, but which is now a melting pot. New rich money rubs shoulders with the poorest elements of society. And inevitably that will include some low-life. I wouldn't want to live in Poplar, but to Zed it probably looked OK.
Raymond Sculley and his friends pitched up at Perfect Fried Chicken in Poplar on their bicycles and left them lying on the pavement. Zed arrived to pick up something for dinner, and walking through the bicycles, asked of no-one in particular "What's this then, a bike gang?". I imagine him saying this with a faint smile on his face; he has had a drink after work, is in a good mood, and needing a bite to eat.
But one of the gang, perhaps whom Zed made eye contact with, was Raymond Sculley's nephew, Sean Searle. In court, Searle was said to suffer from ADHD and to have a very short temper. It seems that he didn't take Zed's comment in the way it was intended, and followed him into the shop, and gave him some grief.
Sculley then came in to 'support' his nephew, and grabbed Zed in a headlock. (All this is captured very clearly on CCTV). Zed has to struggle hard to free himself from Sculley, but does so…and retrieves and pays for his food; because all he really wants to do is get home and have a bite to eat.
Unfortunately what happens next is not so well documented , even though another CCTV camera is available. It is clear that Zed leaves with his food, the gang follow him. Realising that he is in danger, Zed turns around to face his attackers, removes his jacket and drops his food. But Sculley has a weapon – a bike lock and chain. Sculley beats him to death and is recorded as saying while standing over him "Look what you made me do".
Going into the trial, it all seemed clear. Nobody disputed that Raymond Sculley violently took Zed's life. Zed was alone, while Sculley was part of a group. CCTV of much of the incident was available.
And yet the jury found Sculley not guilty, neither of murder nor manslaughter.
When I heard this news I was absolutely stunned. The media reports had considerable detail of what happened, as detailed by the prosecution counsel. The report of the defence argument was limited to one sentence. Sculley acted in self-defence.
Self-defence???
I wrote to the British Ambassador in Prague, vainly seeking some clarity. Surely there must be some details not yet published, which would explain the outcome better; not least to the outraged Czech government and citizens? In vain. Her answer was predictably formulaic.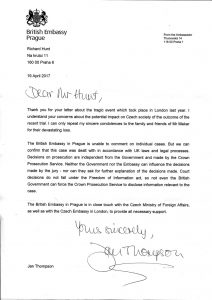 But when I published it on Twitter it brought me into contact with Chris Rawlins, a friend of the group. He had been at the trial and is the one British member of the group fighting for Justice for Zed. He is intelligent, reasonable and wonderfully articulate. I am glad the group have him.
Chris expanded on the self-defence argument. When Sculley was questioned by police he never really explained himself at all. In court, apparently making it up as he went along, and often contradicting himself, he claimed that after Zed left the shop he had threatened his nephew, and Sculley again stepped in to 'defend' his nephew. The CCTV does not at all support Sculley's version, but as it is a traffic camera the images are not clear. All that can be seen is that Zed is walking away, with his food, realises he is being followed by the gang, and preparing for trouble, drops his food, and takes off his jacket. Then Sculley assaults him.
Any British citizen can, at any time, be called, at random, to serve on a jury. I could have been one of this jury. So what would I have concluded?
I would have looked at the photos of Zed, and considered the character of the people testifying on his behalf, and then done the same for Raymond Sculley. I would have concluded that on that evening, life looked better for Zed than it did for Sculley. As I have said, most Czech males seem far less aggressive in public than their British counterparts, and no evidence suggested Zed was an exception to this rule; so there would seem to have been no reason for him to seek any confrontation that evening. He had been working, socialising, and needed a bite to eat. Sculley had been smoking pot, and was with a gang, none of whom seem to work. Zed was alone. Sculley was in a gang of four. Zed made a remark to them as he came in to the shop, but to me it sounds cheerful, certainly not insulting. But of course they would have heard his Czech accent. (as they would also have heard a Scottish or Irish accent and also reacted badly to it – not "one of us").
Sean Searle reacted in a confrontational way to Zed's remark. I don't find it reasonable for Searle to have done so. Then Sculley makes a physical assault on Zed in the shop, captured on CCTV. Zed breaks free, and if I had been him I would have got out of there, and left my chicken. But Zed isn't going to be intimidated and probably feels that if he shows no aggression things will calm down (as they do, back in his home country). He pays for his food, takes it and leaves. The CCTV shows no evidence of Zed doing anything other than walking away. When then did Zed attack Sculley, so that he would respond in "self defence"? Why would Zed, having already been assaulted by Sculley, seek to renew the confrontation, when it is one against four, and he has his dinner?
There is absolutely nothing in the evidence for me to justify Sculley even throwing a punch at Zed, let alone brutally murdering him. I would have found him guilty as charged.
Yet a jury of 12 people saw it differently. They found Sculley not guilty. He walked free from the court, despite it being a matter of record that he beat Zed to death with a bike lock and chain.
And under English law there is no right of appeal. There is, officially, no further way for Zed's family and friends to get justice for him.
How can this possibly happen, in Great Britain, in 2017, a country which prides itself on its justice system, and frequently criticises countries whose justice systems it considers to be inadequate?
In part 2, I will address that question and discuss what can be done to obtain Justice for Zed.
In the meantime you might consider signing this petition, and following the campaign group on Facebook.