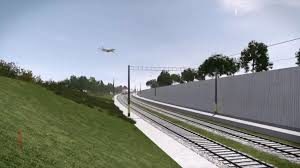 24th August 2017, was a Thursday. I can't remember why, but I came home from work straight after lunch. So at least, when the text from my brother came through, I was able to drop everything. The text said that our mother, who had been re-admitted to hospital, had suddenly weakened, and doctors gave her no more than 24 hours left on this earth. I don't think my brother expected me to be able to get there. However thanks to the efficiency of British Airways, and to living close to Vaclav Havel Airport, by 17.15 I was taking off for London and by 20.00 at my Mum's hospital bedside with the rest of the family. She died peacefully without seeing the next morning.
I tell this story to show that I do indeed appreciate the benefits of modern air travel, and that Prague Airport is important enough that British Airways flies to London from there typically 5 times daily. If that were not the case, I would not have made it to be with my Mum. It's also true that I have always wanted to live on the Western side of Prague. After once replying to my assistant about where else I had live in Prague, she reviewed my answer and remarked "It seems to me that each time, you have moved closer to the airport!"
It is certainly true that the proximity of Vokovice to the airport was an advantage for me; so, you may I ask, should I not expect noise, as a result of my choice? Well not really. The British are nothing if not experienced property buyers, so when we identified our potential new house in 2003, as part of our due diligence we asked our lawyer to investigate possible disturbance from the airport. His answer was that the planes would always take off and land on the same trajectory, and that there were no plans to expand the airport. This reassured us; there were more houses available of the size we wanted in outlying places such as Nebušice, Horomeřice and Suchdol, but we had experienced the noise of the aircraft there and we did not want to live with that. 
Opposition to airport expansion around the world always starts in the villages most affected, but as I tried to show in Part 1, in other countries it is no longer a parochial battle of a few villagers. In Prague up to now, perhaps few people have given much thought to the Airport's plans if they do not live nearby, but here too, the overall mood is changing. Prague people are proud of its attraction for tourists, but now ask if it is healthy that there are so many, especially as many will not remember much of their visit because they were so drunk. 
One especially bad aspect of the Prague Airport plan is that the new parallel runway is actually to be built closer to the city. This goes against all current global thinking, which says that air traffic should take off and land further away from urban centres, for safety as well as for environmental reasons. Why could the new runway not be built to the north of the current one? I think I guessed the answer while attending a meeting at Prague Town Hall. On the wall of the room was a huge map of Prague 6, and I suddenly noticed that the northern perimeter of Prague Airport is also the border of the City of Prague. A runway to the north would be built on land in Central Bohemia – and by the way some people argue that Prague could use Vodochody as a second airport, and Vodochody is in Central Bohemia!
But such parochial arguments should not be used to decide on something which, as the Airport itself argues, is a project of national importance (and it now argues that the State budget should pay for it). On the other hand, we cannot blame Mr Řehoř too much for promoting the expansion of the airport. Although it is a State company, it is still expected to behave like a private company. It is his job therefore to maximise profitability, like the CEO of any company such as, I don't know, shall we say Agrofert? 
But what exactly is Mr Řehoř's business plan? Like many of my activist colleagues I have been in business all my life. We are capable of reading and analysing such a plan. And fortunately, the Prague Airport overall plan is available to the public, here. It contains  a number of elements that you might find to be, at the least, questionable. 
Let's start with the Airport's "vision":
"…to be the first choice airport for the travellers in the catchment area of the Czech Republic, southern Poland and the Czech-Saxon border region, and to be a preferred transfer hub as well." 
So, the Airport thinks that everybody in Pardubice, Brno, or Ostrava should travel to Prague to catch a flight, even though each of these cities has airports which can handle typical European jet flights, and which, lose money because they don't have enough passengers. 
But wait, what is this? Southern Poland?? The Airport seriously thinks that residents of Wroclaw (with its own airport) will choose to fly from Prague for their holiday flight to Bourgas? And how will they get to the Airport in time for their flight at 05.00? Will they drive through the night, on that road through Harrachov (and passing Pardubice)? There is no other way to get there than on that road. Is this a remotely rational business objective?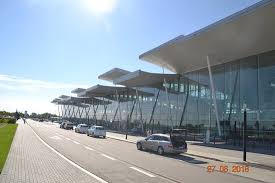 Now, "the Czech- Saxon border region", that is more interesting. We will come back to that….
"Preferred transfer hub" is another interesting objective. Here is a question. How does the country's economy benefit from passengers who only stop in Prague to change planes? And what is meant by "preferred"? Mr Rehor likes to argue that Prague Airport is in "competition" with other airports for this transfer business. But as we have discussed in Part One, that is the airport "hub" concept, and the global business is moving away from the concept, as more and more people insist on direct flights as their clear preference. 
But Mr Rehor puts these arguments forward because as the CEO he believes that his job involves delivering more profit each year, this means growth. In my opinion his "plan" has all the fine sounding words you would expect from somebody who has an MBA, but they are empty. I don't believe he has any evidence that he can "win business" from Vienna, Budapest, or Warsaw. When he produces  the consumer research to show that this is possible, maybe I will change my mind. 
However there is one way in which he could make Prague Airport more competitive. He can ensure that when passengers do use the Airport, the experience is positive. Because if it is not, they will choose something else if possible, and in the future, that something else may be the train. And yet, the train could also be Mr Rehor's friend, if he – and the State – thought more creatively. 
The provision of public transport to and from the Airport ought by now to be a matter of public shame. Did you know that in Sofia, the capital of the poorest EU country, you can now travel direct from the airport to the centre by metro? Many of the trains are air-conditioned and have good LTE connectivity throughout the journey. We all know how it is with the buses from Nadrazi Veleslavin, but the lack of a train or metro connection also means that Evropska is full of taxis which apparently have been given exemptions from all traffic laws; and the road itself, the R7, is near to full capacity, and in the near future people will start to miss flights because of a problem on that road. 
When you get to the Airport too, you may find that your process through security especially is a bit stressful, and it seems to me that the problem is not lack of equipment but apparent lack of staff. 
I, and my colleagues, agree that Prague needs a modern efficient airport. But any investment should be used to improve the efficiency with which it handles the passengers it currently has; and not just to build for extra "capacity" and then look around for airlines to come and use that capacity. 
In short:
No parallel runway. It will not be needed.
Expansion in the terminal only so as to improve the experience of the current number of passengers
Connect the airport by rail to the city and the rest of the country.
The last point is crucial. It's possible that some politicians may say, if there will be less passengers, the rail connection is not needed either. That would be a disastrous decision for Prague. The rail connection has been discussed since 1996, and should have been built years ago. At one stage the metro extension was to go directly  on from Veleslavin to the Airport. Instead it suddenly turns south and ends at city's biggest hospital. Explanations for this are the subject of much excellent Czech black humour.
But now that it has been agreed that a railway connection will be built, there is the opportunity for a genuine integrated approach to international travel connections. There is also the opportunity to help Prague Airport earn more revenue without more flights. As an example we can return to Heathrow to learn a lesson from their mistakes.
The Heathrow Express is a fast (160 kmh) train connection to west-central London. The mistake is that this is all it does. There is no possibility to run high speed trains from the rest of the UK, into Heathrow. In contrast all these European airports have railways stations connected directly to the European high speed train network: Paris (CDG), Amsterdam, Copenhagen, Frankfurt, Cologne/Bonn, and most recently, Vienna. 
But here is something else which is interesting about the Heathrow Express: guess who bought and  operates the trains? …the Heathrow Airport Authority! 
So here is my suggestion. Let's link Vaclav Havel Airport, not just to the centre, but to Europe, by rail. And let's give the Airport the chance to participate by providing some of the rail services. 
There is already a plan to build a high speed rail line from Prague to Dresden, via Usti. And the Czech Chamber of Commerce has proposed that this line could also run to the Airport. Passengers from Usti could be in the Airport terminal within one hour of leaving Usti station. But why not also ensure that at Prague Main station there is the possibility for Pendolinos and RailJets from the east to be able to continue directly on to the Airport. Finally, the Airport could be allowed to operate some trains itself, e.g. an Airport Express which runs non-stop from the Main Station for a premium price, while other trains would stop at Dejvice and Veleslavin and be priced as part of the Prague integrated transport system. Czech Airlines, if it still exists, could sell integrated tickets which include not just the air fare to Vaclav Havel Airport, but the onward rail ticket to Prague city centre – or to Usti. 
It's also true, as Adam Scheinherr has argued, that the country should be looking to build the efficiency and profitability of regional airports. Again the UK provides evidence that this is a good strategy. The UK economy is far too "London-centric" and although it has several international airports, they are running at well below capacity, while Heathrow is full. We should not let this happen here. If Brno is to be a serious "tech hub" it needs a serious airport. Meanwhile Pardubice is close enough to Prague to be a better choice for many who live on the east side of Prague, if only it had a good choice of flights. 
I hope I have persuaded you that our campaign is not "anti-flying" or even anti -Prague Airport. It is about a sensible transport policy which makes the country better connected, for everybody, and also a nice place in which to live, where the development of air travel is managed with the entire community in mind.